Price of Floor Standing AC in Pakistan starts from RS 162,000. Normally floor standing ac would cost you around RS 233,500. Some commonly sold floor standing ac includes, PEL 24K BOLD 2 Ton Floor Standing AC, PEL PFS-24K Floor Standing Cabinat AC 2 Ton, Gree GF-24CDH 2 Ton Floor Standing AC and Orient Premier-24G 2.0 Ton Inverter Floor Standing Cabinet AC.
The name "floor air conditioner" is self-explanatory since it is essentially standing on the floor. Sometimes it is also referred to as a tower air conditioner. It has a large propeller fan and diverse rotation features, which allows wide spaces like restaurants, corridors, hotels, etc., to be cooled in the shortest possible time.
The tower ACs are composed of two parts: internal and external. The indoor unit may be positioned in any room corner, whereas the outdoor unit is located outside the home to delete warm air. 
Floor Standing AC Difference With Split AC
Floor standing AC works on the mechanism of any other AC; the difference is that it doesn't need to be installed through the window. You can place it on the floor. It can be easily moved as it hasn't been fixed on the wall like a split AC. one more thing, it has a big throw of cooling air as compared to other AC.
Their working mechanism is similar to window AC; the air is sucked into ac, passing through pipes containing freon gas. Then hot air is sucked from outside using a large insulating pipe.
Advantages
The benefits of using a floor-standing air conditioner include
They can be used to cool down a large area in a short time

Their large fans allow them to give us more CFM than any other inverter AC

They aren't fixed to the wall, so we can easily move them. This allows us to readjust their direction easily.

Due to their advanced filtration system, they can easily act as air humidifiers.

They produce less noise than centralized air conditioning, although they are a bit noisy.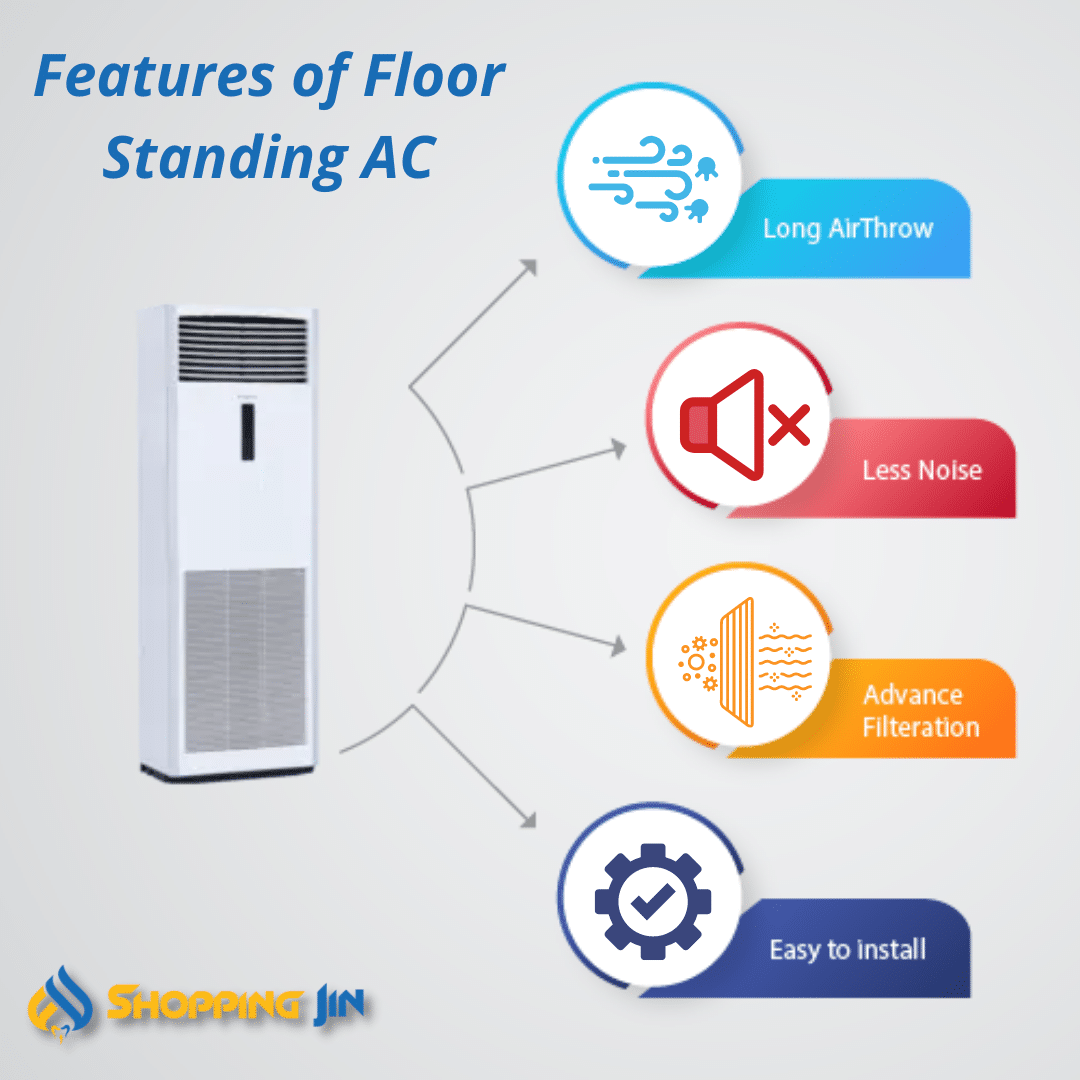 Disadvantages
As we know that every cloud has a silver lining. Below are some of the disadvantages of using a floor-standing air conditioner:
Floor standing air conditioners are not as energy-efficient as split AC.

When dampness from the air is collected, it goes directly into the collecting tray located at the bottom, which needs to be emptied after a specific interval.

Floor standing air conditioners are also more expensive than split AC because they are bigger and must be placed on the floor stand.
Size of Tower AC
The minimum starting size of floor standing ac is 2 Ton. Additional sizes, including 2.5 Ton, 3.5 Ton & 4 Ton, are also available floor standing. Few companies also manufacture 8 Ton standing air conditioners.
Brands of Vertical Standing AC in Pakistan:
Almost every standard Ac manufacturing company also manufactures floor-standing ac. A few of the most popular floor air conditioners manufacturer are listed below
Gree

Kenwood

Daikin

Haier

Pel

Acson
Recommendation
Floor standing air conditioner is recommended for people who have ample space within their home or office where they want an effective cooling system. It's preferred to use split AC where you don't need large airflow. That is why we only recommend using floor-standing ACs in the corporate sector.