Price of Split AC in Pakistan starts from RS 57,800. Normally split ac would cost you around RS 118,300. Some commonly sold split ac includes, PEL 1 Ton Inverter AC 12K Arctic, PEL 1.5 Ton AC 18K Aero Plus, Mitsubishi MSZ-HJ35VA-PK1 ID 1 Ton (H/C) DC Inverter AC and Gree 18FITH7 Inverter 1.5-Ton C-Royal AC.
A split air conditioning system usually consists of two units. An indoor unit that is connected via a copper tube to the Outdoor Unit. These are the most common types of air conditioners used in Pakistan. Split ac systems are preferred for their small size and energy efficiency. They are installed in almost every Pakistani bedroom.
Major types of split air conditioners
Below are a few of the top demanded split air conditioners
Wall Mounted Split System Air Conditioner:
These are perfect for single rooms and provide a quiet energy-efficient cooling method.
Multi-Head Split System Air Conditioner:
A multi-head system allows you to link a number of indoor units to a single outdoor unit. This can save a lot of places and make your system more user-friendly. Ideal for any application where numerous rooms need to be linked, such as townhouses, villas, flats, or homes.
In-Ceiling Cassette:
Ceiling Cassette systems are well suited for residential or commercial properties. This sort of system is ideal for homes that don't have external wall access, such as family rooms, lounges, conference areas, workplaces, hotels, and restaurants.
Main Features of Split AC:
Most of today's split air comes with many features to assist users. These features include Inverter technology. I feel Function, Dry Mode, and Fast fan speeds. These air conditioners also have filters that help in getting rid of your home of pollen, dust, and other allergens. Some other features include auto-restart in case of a sudden power failure. The dehumidifier function is one of the greater features of all.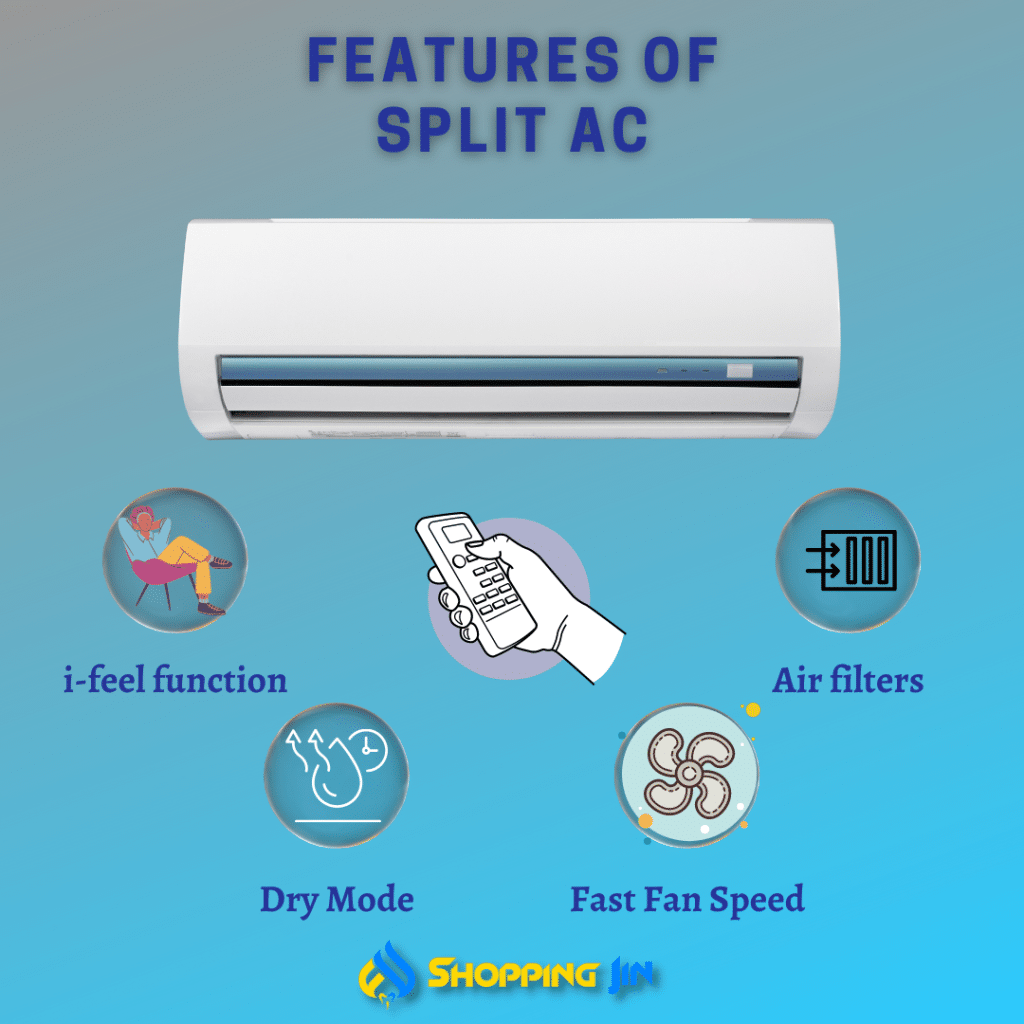 Brands of Split AC in Pakistan
We have listed the top brands of split ac.
Haier
Pel
Mitsubishi
Orient
Dawlance
Kenwood
Gree
Changhong Ruba
Acson
Price of Split Ac in Pakistan 2022:
Every company has its own prices. In Pakistan, Haier, Dawlance, Changhong Ruba, PEL, and Orient usually have the lowest price whereas Mitsubishi and Gree have high prices for split AC. They charge more due to their good reputation and quality in the market.
The price of Split AC is highly dependent on the size of AC. 1 Ton Split AC will cost you around 60,000/-, 1.5 Ton Split AC will cost you around 80,000/- and 2 Ton Split Ac would cost you around 1,00,000/- PKR with shipment all in Pakistan.
Disadvantages of Split AC
Before making a purchase, weighing all the pros and cons to make an informed decision is important. There are a few disadvantages to split air conditioners, but the benefits can outweigh them.
Installation can be tricky and should only be done by certified professionals. If not installed properly, there is potential for refrigerant leakage, which could cause health hazards.
DC inverter variant contains a DC kit that can easily be shorted. They are costly to replace
Although split ACs are easy to manage, they require regular maintenance (every couple of months) if you want them to last longer.
Inverter vs non inverter Recommandation:
When it comes to split air conditioners, one of the main decisions you'll need to make is whether to choose an inverter or non-inverter model. So what's the difference? An inverter split AC is more expensive than a non-inverter model but uses less energy and can save you money in the long run. Non-inverter models are cheaper to buy but use more energy and can be less efficient overall. If you want to save money on your energy bills and are planning to install a unit for at least a year, an inverter split AC is the way to go.