Technology keeps on changing day by day. A lot of new types of heaters are imported each year in Pakistan. Looking at unpredictable weather changes, only a few of these technologies survive. Fan heaters are one of them. It is a fully electric solution for heating your room and maintains the heat by circulating air.
Types of Fan Heaters
There are two types of fan heaters.
Blower fan heaters

Impeller fan heaters (aka 'Gas Electric Heater' in Pakistan)
Blower fans
Blower fans have a heating element inside of them that heats up the air by pushing it across the heating source with an electric motor, which is why they also work like ventilation systems (expelling hot air through vents).
Blower fan heaters are more efficient at heating up larger spaces because they have a stronger fan motor, which allows them to circulate air faster and blow out hot air.
Impeller Fan Heater
Impellers use direct-current to spin blades to push warm air outwards or suck colder air downwards for central heating purposes. The benefits of each design vary; however, some features may be more important to you than others.
Impeller fan heaters tend to be smaller but can still provide adequate heating for small or medium-sized rooms if the fan speed is high enough (although this decreases energy efficiency).
Major Difference
If we talk about them collectively, price is the biggest difference. Blower fan heater comes at a relatively cheaper price in Pakistan as they are physically assembled in Lahore. On the other hand, Impeller motors are imported from out of the country (usually from japan). A lot of taxes are charged on these fan heaters, which increases their price significantly.
There is also a space heater designed that mixes both blower fans with propellers, known as an electric turbofan heater. Blower fan heaters are overall cheaper than impeller models due to their design hierarchy.
Summary
In Pakistan, blower heaters are commonly used. That's why they are referred to as fan heaters in the wholesale market. They are further categorized into ceramic and other types of heaters. 
Some people also think of a parabolic heater as a fan heater. It's due to their shape, which is similar to pedestal fans. Beware, the parabolic heater's heating mechanism doesn't include fan heating (air throw). They only have a design of a fan.
Factors to Consideration in Pakistan, When Purchasing a Fan Heater
Fan wattage: The fan wattage should correspond with the size of space you are trying to heat up. Blower fan heaters have higher wattages, typically ranging from 1000 to 2000 watts. Impeller fan heaters fall somewhere between 600 and 1500 watts, depending on how powerful they are.
Air circulation speed is measured in cubic feet per minute (CFM) or meters per second (m/s). Higher CFM means more air movement; thus, fan heater models that produce high CFMs will be able to efficiently circulate warm air throughout a larger area much faster than other types.
Thermostat: A heater with a built-in thermostat is ideal for any office or building to run for a long time. It controls the amount of heat in the room.
Multi-switch for Speed: Fan speed should be adjustable, as some people like slow heat waves and some likes fast throwing heat waves
Material of Construction: Some Pakistani importers try to save cost by building fan heaters with used &scrapped cheap plastic. Heaters built with such a thing will start melting with the heater motor that is generating heat waves. You'll soon start smelling a burning smell.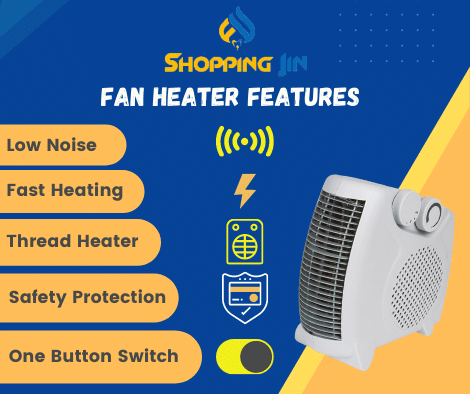 Recommendations:
Blower fan heaters are ideal if you want a portable heater to heat up the entire room. They might be a bit energy-consuming, but you can always shift to the ceramic heater as they can be operated on 750W.
Another latest heater technology has recently arrived in Pakistan, yes you guessed it right. It's a wall mount heater. They are getting a lot of hype nowadays. So if you run an office or small startup, we would recommend it to you.
Fan Heaters Price Estimate in Pakistan
People are turning to fans as a way to reduce heating and cooling expenses while yet being comfortable, owing to the rising cost of gas, oil, and wood in today's society. Fan heaters are an excellent option for avoiding billing difficulties since they are energy-efficient and use less power. Shopping Jin is Pakistan's largest heater vendor, offering you fan heaters at the best prices in Pakistan.
Price List of 2022
If you buy from us, we can guarantee the best price with the best product. on average, people sell quality fan heaters at the price of 5,000 PKR, but at shopping jin, fan heater price starts from 2,300/-. feel free to inquire about more information.
Brands of Fan Heaters in Pakistan
A lot of importers are putting their custom or self-authorized brands labels on fan heaters. Last time, we saw a Hitachi fan heater, but Hitachi doesn't even manufacture home appliances. How can it manufacture fan heaters? Still, some official companies like Renai and back & decker distribute quality fan heaters all over the country.
Some other prominent names include Sinbo, NTN & Geepas. If you are still looking fr some reliable China or Japanese heaters, we are available to suggest them too, to our valued customers.