Iron price in Pakistan starts from RS 2,800. Average selling price of iron is RS 12,100. We give lightning fast delivery of iron in all major cities of Pakistan, specially in Lahore, Islamabad, Multan, Faisalabad & Karachi.
Wrinkled clothes always give bad vibes and can ruin your image, whereas pressed clothes give you a neat and decent look and raise your aesthetic sense.
Pakistan is one of the top countries using personal irons for daily clothing. Besides basic personal irons, people have also embraced the new ironing technologies like steam presses and irons during the last few years. People also tend to have at least one traveling (mini) iron at their disposal every time.
With this much demand, many local manufacturers have grasped the iron market of Pakistan. Now there is a variety of irons in the wholesale market, which makes it harder for people to pick one for themselves.
Here we will decide to buy an electric iron simpler for you by discussing their types, some advanced features, buying guides, and our recommendation for irons.
Types of Iron
There are two main types of Irons; Gas Irons and Electronic Irons. Electronic Irons are further classified based on different features. Let's have a brief look at their specs and price estimates.
Gas Irons
A gas iron comes without temperature settings, so you must either turn it on or off to provide the iron with the needed temperature because there's a greater chance of burning your fabric. These types of irons aren't as popular as electronic irons. However, these are cheap.
Electronic Irons
These automatic fabric iron feature a stable thermostat to regulate the temperature. This allows the users to control the heat. When the iron reaches a specified temperature, it immediately removes itself from the electrical source and reconnects itself again when its temperature drops below the threshold. Electronic irons are priced at moderate to high costs in Pakistan.
They are further categorized into below three main types
Dry Irons
Dry Iron is also known as an essential home or personal iron that requires separate water spray to iron clothing. These irons are usually heavier than others. They have a steel plate for pressing and an adjustable dial for the temperature change. These products come with a thick cord and are a bit more expensive than others. It's an excellent choice if you're looking for a long-lasting product.
Travel Irons
These are portable and can be used when traveling. These are basic dry irons in a small size that don't include a steam function.
Foldable Irons: As the name suggests, irons can fold to store them easily without taking up the space. Some models can be flat folded. They are a bit bulkier, so you can't fold them into the middle. They are also offered in various sizes.
Mini Irons: Mini clothes irons are tiny in size. They are ideal for smaller craft projects. If you enjoy traveling and plan to include hotels, buy this.
Steam irons
Steam irons have built-in streaming features, making them suitable for all kinds of clothes. They are bought mainly for cotton fabric. Steam irons have holes in the soleplate that allow steam to escape. The most effective steam irons feature an adjustable setting for steam, spray nozzles, and the option of vertical steam.
Their main drawback is that their soleplate is made so that if it's not used with a filled water tank, it can quickly burn your cloth.
Deluxe Steam Irons
They are the most expensive irons. They featured continuous temperature adjustments for steam, an adjustable cord, and an automatic shutoff function. They are fitted with more steam ports and have water tanks filled more quickly.
If you've had trouble pressing clothes with your essential steamer, it may be time to switch it to a higher-end model. The steam irons have soleplates made of aluminum that don't harm fabrics and have a lower chance of sticking themselves to the fabric.
Vertical Steamers (Garment Steamer)
Vertical garments steamer produce steam like the standard steam iron; however, they can steam vertically and horizontally. Steaming can reduce wrinkles and is an efficient substitute for conventional ironing. You'll pay more money for this option, but it's an effective time-saver.
Misconception: In Pakistan, people believe steamers and steaming Irons work precisely the same, but these two work quite differently.
Iron Features That Everyone Should Know
Ironing clothes is already a dreaded chore for most of us. Selecting the wrong iron can quickly turn our hard work into a mess. So we should at least have a basic idea of the features that our underlying tool can provide. In addition, The price of Iron in Pakistan is also based on its specs and features.
In short, whenever you are looking for an iron, make sure you get enough knowledge about all the specific iron features. Let us give you some details about these features so that you can save your money and time.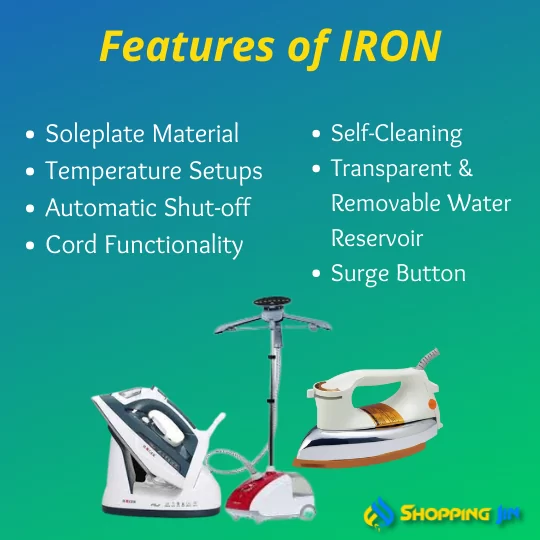 1. Soleplates material
Iron soleplates are constructed from stainless steel, aluminum anodized, ceramic, and Titanium materials. Ceramic or stainless steel soleplates are more comfortable for pressing clothes over other types of materials.
Ceramic: Irons that have ceramic sole plates ensure rapid heating, uniform temperature distribution, and static reduction. They also don't adhere to the fabric when heated to extremely high temperatures.
Stainless Steel: Similar to ceramic, irons with sole plates made of stainless steel ensure uniform heat distribution since this material is among the top conductors of heat. They tend to be heavier than the average.
Titanium: Titanium can quickly heat up and guarantees heat even distribution. It's also simple to keep clean and long-lasting while being light.
Go for stainless steel or ceramic soleplate if you're looking for an iron that can glide easily over the fabric.
2. Temperature Settings:
All irons come with the basic settings for heat, including medium, low and hot. The high-end models include several more temperature settings to cover a more comprehensive array of fabrics.
Find an iron with easy and precise controls. Verify that the settings are visible and can be adjusted. Most irons come with an adjustment dial for temperature just beneath the handle.
3. Automatic Shutoff feature:
An iron with a timer that shuts off the appliance if not used for a predetermined amount of time is a lifesaver. This feature has saved tons of houses from catching fire.
4. Cord System
In many cases, the cord may become obstructed and not allow you to move beyond a specific range.
Cord Swivel: This feature lets the cord rotate around 360° in all directions. This helps reduce the fatigue of handling wire and prevents the cord from being in the way when ironing. You can rotate the iron any way you want. However, the cord remains at a single point.
Retractable Cord: Irons with retractable cords have a small mechanical box with a spring that pulls the cords inside in a spiral manner. This means you don't have to wait until your iron is cool to wrap the cord around it. Consider it as a built-in storage space for the wire.
Cordless: If you're not interested in dealing with cords, buy a cordless iron. They warm up on heating plates, allowing free movement while you iron. They can only hold warmth for a short time at a stretch and require a return to the hot plate to reheat. They come with an additional heat plate that can be set to the same place.
5. Surge Button
This option provides a blast of steam that can help reduce stubborn wrinkles. This is especially useful for those who frequently press linen or heavier/thicker fabric like denim.
6. Self-Cleaning System
The mineral removal process flushes the ash from the vents. However, it isn't always efficient with long-term use or hard water. We can use a surge button to eliminate water and clean vents.
7. Transparent & Removable Water Reservoir
A transparent water chamber in steam iron makes it easier to check the water level. You can add water via a small opening near the handle and then cover it to prevent spillage. Some models also have removable water tanks, allowing you to fill them with water quickly.
Minimal Things to consider when buying an iron
Below are things you should have in mind while buying an iron.
Design and Build
Irons are made of metal and hard plastic. Their design & material plays an essential role in ironing. The most crucial factor in its design is the dimensions of your handle. If the handle is too thick and your hands are small, then it will become hard to grasp the iron. If you have to use iron for more than half an hour, then pick the one with a handle that's suitable for your hand.
Weight
Irons that have large bases made of metal are a bit heavier. The majority of the modern models are light and don't put pressure on your arms. When purchasing an iron, it is advisable to determine if it is comfortable and easy to move.
Steam irons may be too lighter than regular ones, making them uncomfortable for old and heavy iron users. Another benefit of a heavier iron is that you don't have to apply a lot of pressure while ironing. The best iron should be a moderate iron that isn't too heavy or too light.
So place the iron in your hands to check the feel and weight before purchasing.
Power and Wattage
Powerful iron emits a lot of heat. We know that it would need more watts of power for better efficiency. Higher-wattage irons would also cost more.
A high-powered iron is mainly used for removing wrinkles from heavy fabric. It isn't required for everyday work. So, first, see your usage and then select your iron.
Warranty
Irons' warranties vary from one brand to the next. The majority of brands provide two years of warranty. If the item has defects, this can be repaired or substituted. For more information about the warranty's terms and conditions, you may speak to the person who is selling the product or look it up on the company's official site.
Price of iron in Pakistan:
Iron prices in Pakistan are quite stable. Irons are mostly sold at PKR 3,000/-. A decent iron in Pakistan would not cost you more than PKR 6,000/-. The price is dependent on its feature. Below is a compact price list for iron.
Iron pricelist for 2022
Iron Brands in Pakistan
Dozens of brands, from local manufacturers to importers, are selling Irons. Below is the list of the best brands that produce the best Irons in Pakistan.
Annex
National
Philips
WestPoint
Sogo
Recommendations:
Different kinds of irons are available in the marketplace. In our view, getting an automatically connected deluxe steam iron is the most effective option. It would be a little pricey, but the ease is worth the cost.
If you're looking for an iron to travel with, then you are looking for a compact iron. A mid-sized folding iron is the best option in that case.