Oven price in Pakistan starts from RS 9,000. Average selling price of oven is RS 23,200. We give lightning fast delivery of oven in all major cities of Pakistan, specially in Lahore, Islamabad, Multan, Faisalabad & Karachi.
Food can be prepared using many ways, such as boiling, poaching, deep-frying, stewing, and braising. Among all of these methods, baking is quite popular as it's low in fat and rich in taste. Baked items like cakes & pizzas are always the center of any party in Pakistan due to their gooey flavor.
Types of Ovens
The modern oven provides a lot more than just baking. They allow us to roast, broil, bake, dehydrate and reheat our food. Each of these features requires a particular set of attributes to be present in the oven. Based on features, shapes, sizes & style, they can be classified into the below types.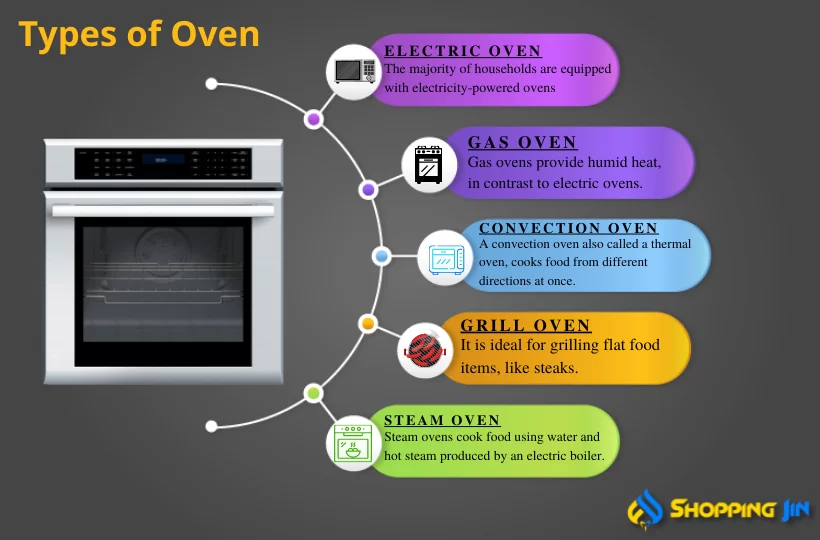 Based on Power Supply
We can classify the oven into 2 main types based on those heating sources.
Gas Oven
Gas ovens provide humid heat, in contrast to electric ovens. Therefore, food items aren't too dry. However, it is more expensive than the electric version. Gas ovens are much faster to operate and require less maintenance.
Electric Oven
The majority of households are equipped with electricity-powered ovens. Such ovens are practical, cheap, affordable, and simple to use. They produce dry heat that is ideal for roasting and making bakery items.
Dual Fuel Oven
These ovens are run on both natural gas and electrically. They have an electric convection oven with a gas stove on the top. They can are ideal for reheating, baking & cooking.
Misconception: People believe the cooking range and oven are the same in Pakistan. The cooking range or oven range is the combination of stove and oven. That's why they are referred to as dual fuel ovens.
Based on Heating Method
They can be categorized into two main types if we consider their work.
Conventional Oven
As a stove does, the conventional oven is equipped with an energy source located on the bottom. This includes integrated heating sources and non-heat ovens that are placed over a stove. The roasting results can be uneven in this oven; however, it is heavy-duty.
Convection Oven
A convection oven also called a thermal oven, cooks food from different directions at once. The thermal oven has an electric fan to distribute the heat evenly. The baking results can be uneven if electric power fails or the heating fan is not large enough.
Microwave oven:
These ovens are used for reheating only. They can't cook as high-frequency microwaves generate heat. It starts heating food from the center first, and then heat travels towards the outer reign of the food.
Based on Special Feature
Based on special cooking techniques, they can be found in the below types.
Steam Oven
As slow cooking is becoming more common, steam ovens have also earned popularity. Steam ovens cook food using water and hot steam produced by an electric boiler. You don't need oil or butter to be applied to the food as steam is absorbed by the food quickly. But it won't give you a crispy structure.
Combi Steam Oven:
It works exactly like a steam oven but is equipped with an electric heating element to provide a crispy structure.
Grill Oven
The Grill Ovens have grills that you could use to cook seafood, vegetables, and various meat dishes. It is ideal for grilling flat food items, like steaks. They are sometimes also referred to as Toaster Oven.
Based on Design
According to the space available in your kitchen, you need to understand the most common oven designs based on their installation.
Freestanding: 
It is the most extensive variety of options on the market. But, easy to set up and can be installed in almost any kitchen style.
Wall-mounted:
It's also ideal for kitchens that do not have enough space for the floor. Depending on the location, a wall-mounted oven can be among the most costly models.
Slide-in Oven: 
It's more costly than freestanding units but less expensive than wall-mounted. The slide-in oven narrows the space between cabinet and oven, allowing crumbs to get in.
Drop-in-Drop:
It's more challenging to put in than the slide-in models. But the result is a sleek, elegant, integrated appearance that makes your kitchen look more lavish.
Accessories of oven:
The oven comes with various accessories depending on the types you are buying. A few of the most common accessories are listed below.
Portable Grill

Rotisserie Spit

Rotating Glass Tray.
Additionally, buying these accessories would be useless, and the oven's internal design must meet your oven's fitting requirement.
Size of Oven:
Ovens are usually measured volumetrically, usually in liters. It's the measure of total capacity that an oven can easily hold. The minimum size of the oven is around 20 liters. These ovens are usually used at home. These small size ovens are affordable. People usually demand a 30 liters oven for home in Pakistan.
The maximum size of the oven is around 10 liters (6 cu feet). Large-size ovens are usually used for commercial purposes. They are ideal for making pizzas or bulk bakery items like bread. In Pakistan, Usually, people buy an 80 liters (3 cu foot) oven for small restaurants. So there are a lot of economical options in an 80 liters oven.
Latest Features in Oven
1. Self-cleaning
Self-cleaning ovens can help reduce the buildup of residues. This type of oven includes extra insulation that aids in clean-up. But, be sure that you don't leave any leftovers or large amounts of crumbs after activating the cleaning feature. They could be burned and create smoke. The 2 most demanding self-cleaning ovens are
Catalytic cleaning oven

Pyrolytic cleaning oven
2. Oven with Delay
This oven has an automatic baking and roasting control that allows you to delay baking time to the specified time. It also can shut off when it reaches the cooking level set. This oven is ideal for those who often lose track of time or are distracted from focusing.
3. WiFi Equipped
Built-in WiFi is a feature that is available in intelligent appliances today. The WiFi built-in is typically linked to cooking functions. For instance, if you are working in the kitchen but still have to bake something for dinner, you could operate the oven from another room.
4. Multi-Function
Multifunction ovens have particular cooking functions that aid in achieving perfect results with different food items. For instance, certain ovens are equipped with grilling, speed-cooking, slow-cooking, and defrosting capabilities. Additionally, a separate oven bakes bread that can make dough proof until it is perfect for baking.
Pro Tip: Be sure that your oven is compatible with your cooking style regardless of the cost and models.
What to consider before buying an oven?
There are many factors to consider when selecting an oven, such as the cost, size, type, appearance, and color. A good oven selection can significantly impact the outcome of your kitchen.
Color
Metal finishes such as copper and gold are getting more and more popular. Matching the hue with the other kitchen appliances like the fridge and cooktop is recommended. Color Ovens with ivory or white enamel are the most popular choice, particularly in kitchens that have light-colored cabinets.
Price     
There's an extensive range of oven costs, like every kitchen appliance, based on the specifications, location, and brand. Electric ovens are usually less expensive to purchase, and gas ovens are usually less expensive to operate. The oven price in Pakistan, based on their features, ranges from 4500 to 25000.
Shape
Single Oven:

A standard oven is sufficient to cook for the average needs of a small household. A single oven can be used as an individual unit, perfect for a small area.

Double Oven Double:

A double oven is an excellent option for families with large numbers or who frequently entertain at home. Double ovens make it possible to cook two meals simultaneously, which saves lots of time.

Triple Oven:

Do you know that you can purchase an oven that can triple? A lot of electronic companies introduced their "triple ovens." The two spaces on top are ideal for cooking two "flat" meals.
Tip: Double ovens can be found as conduction or convection ovens. No matter which option you select, ensure that the controls are simple to comprehend to use both ovens without confusion.
Dimension
Of course, the size of the oven you select will depend on the perfect oven to fit your kitchen. The amount of space to work with you in the kitchen. Most ovens range between 27 to 30 inches in width. So, you must consider the size that will work most effectively for your kitchen style.
Brands of Oven in Pakistan
Dozens of brands sell ovens in Pakistan, from local manufacturers to importers. Here are some of the best brands that are producing the best ovens in Pakistan
Annex

Dawlance

Haier.

Electronics.

Samsung.

PEL.

Panasonic.

Homage.
Recommendation
Whatever oven model you select for your kitchen, be sure to read the manufacturer's instructions carefully and operate the oven following the instruction manual. Clean up any food or spill leftovers as soon as possible. Check the oven thermometer regularly to ensure the oven is heating properly.