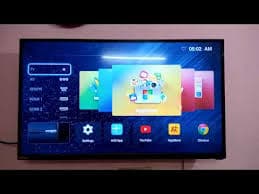 Changhong Ruba's high-quality backlighting views darker blacks and luminous brightness while maintaining the best standards in energy efficiency. That is why it is the best Changhong Ruba LED at the lowest price.
USB Ports:
There are two ports in Changhong Ruba LEDs. Using these ports, you are connected with all USB cables, such as Mouse, Keyboard, USBs, etc.
HDMI:
Changhong Ruba 40 inch LED TV 40F3808M tried to give 2 HDMI or "High-Definition Media Input," which is the go-to port for all your modern devices. HDMI ports on your TV are used for both video and audio. In addition, most computers have HDMI capabilities, so you can use an HDMI cable to hook your PC up to your TV. You can even plug a streaming device like a Roku or Amazon Fire TV Stick to turn your old TV into a smart TV.
Sound System:
Get the best in sound quality with Changhong Ruba's customized premium speakers for a more powerful sound that is certain to rock your world! Triple protector built-in can protect your TV from the damage of lightning, power surge, and weather humidity. This perfect sound system is found in Best Changhong Ruba LEDs lowest price.
Changhong Ruba 40 inch LED TV 40F3808M Specification:
Visit the product page's detail section for Specifications of Changhong Ruba's best LEDs in Pakistan.
Resolution is 16:9.
4K smart LED Screen.
Chromecast Built-in functions…… & see more.
Changhong Ruba 40 inch Full HD LED TV 40F3808M Features:
Following are the Feature of Changhong Ruba 40 inch Full HD LED TV 40F3808M;
It has 2 HDMI Ports.
It has 2 USB ports.
It has a built-in Chromecast.
It has AVC (Auto Volume Control).
Wi-fi Built-in Function.
The screencast is also Available