Air Purifier price in Pakistan starts from RS 12,500. Average selling price of air purifier is RS 59,000. We give lightning fast delivery of air purifier in all major cities of Pakistan, specially in Lahore, Islamabad, Multan, Faisalabad & Karachi.
Air pollution in Pakistan is one of the major problems everyone faces. Major cities like Karachi, Islamabad, Multan, etc., face heavy air impurity (smog). Lahore is at the world's top in terms of the most polluted cities.
Pakistan lacks oxygenated air, due to which tons of new diseases are emerging like allergies, asthma, etc. Air purifiers must be installed in homes and offices for a healthy lifestyle.
Why Use Air Purifier
Below are a few of the many benefits of an air purifier
It removes allergens from the air.
It removes harmful chemicals and particles from the air, reducing the risk of asthma attacks.
It improves the quality of life by reducing smoke and other odors from the air.
Types Of Air purifiers:
In Pakistan, there are 3 types of air purifiers being imported. You can choose which one is best for you.
Air Purifiers with HEPA Filter. ( Most Cheapest – Usually used for small rooms)
Air Purifier with Activated Carbon Filter. (Most Effective – Recommended for Offices & Buildings)
Ionic Air Purifier. (Small Size – for Cars Mostly)
The main difference between the above-given filters is based on the type of filter. They might come with non-reusable filters or reusable filters (up to certain intervals).
Reusable filters are better for clearing dust, mites, and different huge particles from the air. They may also come with UV (ultraviolet) light, which cleans biological pollutants like mold or bacteria.
Basic Working of Air Purifier
Air purifiers mostly depend on a filter. They have a fan that stinks in and circulates air. As air goes through the filter, impurities and other unsafe particles are captured. And clean air is sent back out into the room.
Benefits of Air purifier: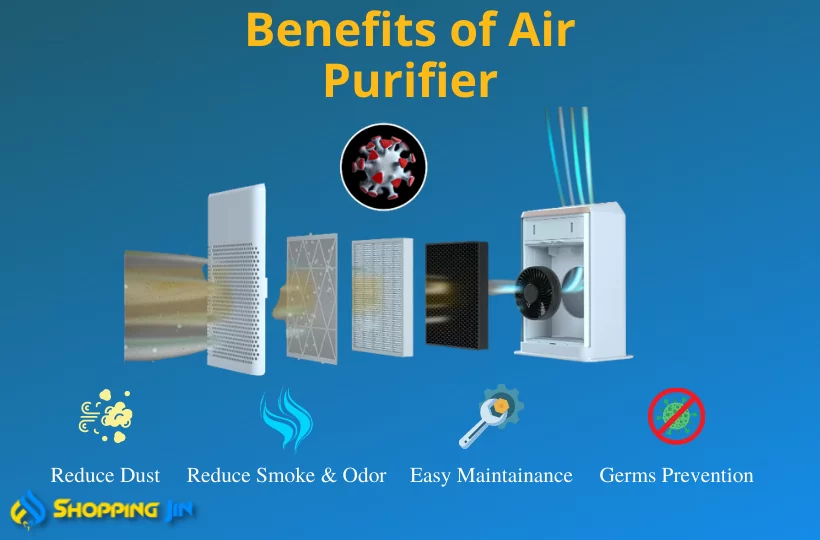 Below are a few of the common benefits
Germs Prevention
The air purifier can remove up to 90% of bacteria and viruses from a room's air. This is because an air purifier contains a HEPA filter, which traps particles as small as 0.03 microns in size so that it can trap even bacteria and viruses. An air cleaner also reduces allergens such as pollen and dust mites.
Reduce Smoke & Odor:
An air purifier is great for reducing the odor of smoke in the living room. In fact, many people use an air purifier to remove cigarette smoke from their homes, restaurants, or office. Air purifiers can also reduce the odor caused by cooking.
Working in places covered with smoke and human odor or dust particles is challenging. Your life is much improved by utilizing an air purifier in the workplace.
Reduce Dust
People with asthma or allergies can benefit greatly from an air purifier, which reduces the amount of dust in a room. This means asthmatics are less likely to have attacks due to exposure to dust particles and allergens in their home environment.
Easy Maintainance
An air purifier is easy to maintain because all of the filters are removable and washable. Air cleaners with HEPA filters need to be replaced every three to six months, depending on how much you use them.
Size
One of the best things about air purifiers is that they can be used in any room, regardless of size. Selecting a small purifier would consume more time for cleaning the air.
Price of Air Purifier in Pakistan:
Air price is quite an expensive item in Pakistan as it is directly imported from abroad. On average air purifier will cost you around PKR 35,000/-. There are also cheaper variants of air purifiers, but they aren't as effective.
2022 Update Pricelist
Best Air Purifier Brands in Pakistan
The air purifier is usually imported from abroad. There are a lot of options for air purifiers in the market. We have listed the top 4 brands among all purifiers, which provide the most features at a reasonable price.
PEL Air Purifier
Philips air purifier
Haier air purifier
Gree air purifier
Good Air Purifier Feature
Below are some of the features that a good air purifier holds
Quick smoke removal mode
Touch control system
Air quality display
Sleep mode with ultra-quiet operation
Smart sensors for intelligent purification
Filter replacement reminder
VOC value digital display
PM 2.5 value digital display.
FAQS
What is the cheapest air purifier?
The minimum cost of an Air Purifier in Pakistan is PKR 8000/-. You can check the air purifier of different brands and choose which one is budget-friendly for you.
Does an air purifier remove dust?
Yes, it can. An air purifier with a HEPA filter is ideal for dust removal. Many other air purifiers remove dust and other particles from the air.
Which air purifier is best for the home?
Phillips air purifiers are best for home. It comes with a carbon and HEPA filter. Some of the best-selling air Philips air purifiers include Philips 2000i Series, Philips 800 series & Philips 1000i series.
Can we use an air purifier when a window is open?
Yes, with open windows, an air purifier can work. Still, the room should be closed ideally for its proper working as impurities like allergens are again mixed into the room's air continuously when the window is open. So place it near the window.
How many times do you have to change the filter of an air purifier?
Well, it is dependent upon the purifier type and your usage. A few filters are reusable and washable, but they need careful maintenance. So you don't find them on the majority of purifiers.