The portable air conditioner is a small portable device used to cool and dehumidify the room. It can be easily moved from one place to another as it comes with wheels and handles.
All portable air conditioners have a remote control feature, so we can adjust the temperature and turn on/off functions quickly. They might not have all the features of a regular air conditioner, but the thing that makes them unique is their ability to generate cool air without any outdoor.
Yes, you heard it right these portable ACs have built-in evaporators and condensers, which are usually placed in a separate box in split AC. If you can't install a separate outdoor unit in your hostel room, office, or studying place, this portable air conditioner would be your ideal go-to device.
Feature of Portable Air Conditioners
Portable air conditioners usually come with the following features:
Cooling
Dehumidifying
Fan and exhaust functions.
Some portable air conditioners also have a heating function which is helpful in winter. The capacity of portable ACs ranges from 6,000 BTUs (0.6 tons) to 14,000 BTUs (1.4 tons). These Larger portable ACs can cool down a room up to 500 sq. ft.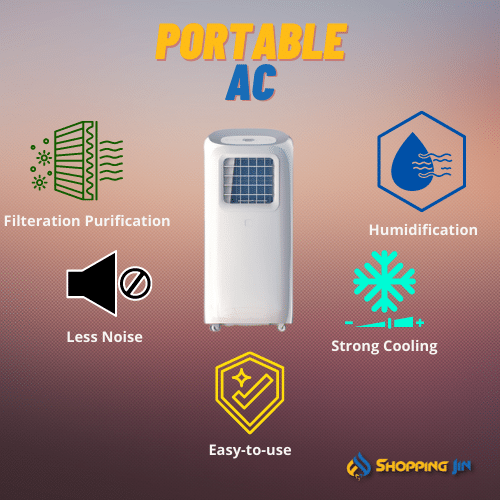 Advantages of Portable AC:
There are many reasons to buy a portable air conditioner. We have listed a few of them in terms of advantages below.
The first one is that it is portable, so you can move it wherever you want.
It is very easy to install – you need to plug it in, and it'll start working.
Another advantage of portable air conditioners is that they are affordable. They are cheaper than split air conditioners, so if you are on a budget, this might be the best option.
Remote control feature for easy temperature adjustment
Suitable for small rooms or spaces
They have built-in filters that are easy to clean.
Few models come with built-in water tanks, but you'll need to empty the water tank as soon as they get full.
Disadvantages of Portable AC:
Portable Air Conditioners have some valid disadvantages, but in context to their comparison with regular split air conditioners, we can discuss its drawback.
One of them is that they don't cool as well as split air conditioners. If you live in a very hot climate or need to cool a large area, a portable AC might not be the best option for you.
Portable AC units often aren't as quiet as split ACs or window units, but there are some exceptions to new models being quieter.
They work best on spaces that are around 250 square feet or less.
Portable AC units can become dirty easily from leaves, hair, etc… which causes them not to work as efficiently.
Portable Air Conditioners come with a water hose that needs to be vented outside. Otherwise, you would need a box to hold the water droplets from cooling the air.
Size of Portable AC
Their size is determined by the area they cover. The more area per square foot, the more power they would need, and the large would they be in size. We have discussed their sizes below with respect to the area they cover.
Up to 200 Square Feet: 8,000 BTU Energy
Up to 300 Square Feet: 10,000 BTU Energy.
Up to 400 Square Feet: 12,000 BTU Energy.
Up to 450 Square Feet: 13,000 BTU Energy
Portable AC Brands in Pakistan
We have listed some of Pakistan's famous portable air conditioner brands. Please have a look at them.
Elite
Maxicool
Skywood
Haier
Close Comfort
LG
Where to use portable AC
Although portable air conditioners don't give us the fully functional power of an Air Conditioner, they are still an excellent option for small rooms. If you are looking for an easy-to-use and portable cooling device like a room air cooler, but are satisfied with its cooling, then a portable air conditioner is the best choice.
Portable air conditioners work best in moderately hot weather and dry climates. They are not recommended to be used in extremely hot weather as the compressor could be extremely hot since they have a compressor compartment inside the cooling unit.
How to install a portable air conditioner
Most portable air conditioners come with easy-to-follow instructions for installation, so you don't need to hire a professional for this. Generally, portable air conditioners can be installed within 5-10 minutes.
To install a portable ac unit, the first step is to open the box and slide out the portable air conditioner from its carton box.  Plug-in portable AC to an electrical socket, attach its detachable unit, do some initial setting and enjoy a cool breeze within no time.
FAQs
Are portable air conditioners best for a small room?
They are best for a small room but not in extremely hot weather.
Does a portable ac need a compressor system?
Yes, they do. All portable air conditioners, like any other air conditioning system, must take in warm air and cool it before expelling the cooled air. A compressor does this.
Does a Portable AC emmit water?
Yes, while cooling warm air. The residual precipitation from the warm air is turned into water droplets, and moisture is sent through a water outlet.