Price of Electric Geyser in Pakistan starts from RS 15,900. Normally electric geyser would cost you around RS 23,200. Some commonly sold electric geyser includes, Nasgas Electric Water Heater DE 08, Nasgas Electric Water Heater DE 12, Canon Fast Electric Water Geyser 10LCF and Super Asia Electric Geyser EH-614.
Heating water is an essential part of any home. Electric geysers are popular because of their efficiency and cost-effectiveness, but they can also be complicated to buy.
Types of Electric Geysers
Electric geysers can be further categorized as
Traditional Electric Water Heater (With Storage Tank)

Instant Electric Water Heater (Without Storage Tank)
Traditional (With Water Tank)
Electric geysers store gallons of hot water at one time. They have a water storage tank with 2 other elements. A thermostat and a water heating coil. These water heating coils have different electric consumption (1.5 Kilo Watt – 2 Kilo Watt). Usually, there 2 such coils, but their number can be increased.
Gallons of water gets stored in a large tank and heated with these coils. Heating might take from 1-2 hours. Once the whole water in the tank gets heated up, it is ready for usage. This tank is coated with glass wool (an excellent heat insulator), so the water remains heated for a long period of time.
Instant (Without Water Tank)
Instant electric geysers come without any tank. The coil itself gets the tubes from which water will flow. These tubes form a deep net, usually made of copper. Water flows from this heated tube and gives us freshly heated water at a very high rate (up to 14 liters per second).
The time required to heat these copper tubes is less than the traditional electric water heater. That is why they are called instant water heaters. It would take around 5-7 mins to warm up these tubes, providing a designated amount of hot water every minute.
Recommendation:
Instant electric water geysers usually cost higher than traditional electric geysers. Usually, people weigh them on upfront money, but they would cost more as an instant electric water heater uses more electricity than the traditional one. So for a short duration, they would be the best choice. If you want to run them longer, we would suggest a traditional water heater.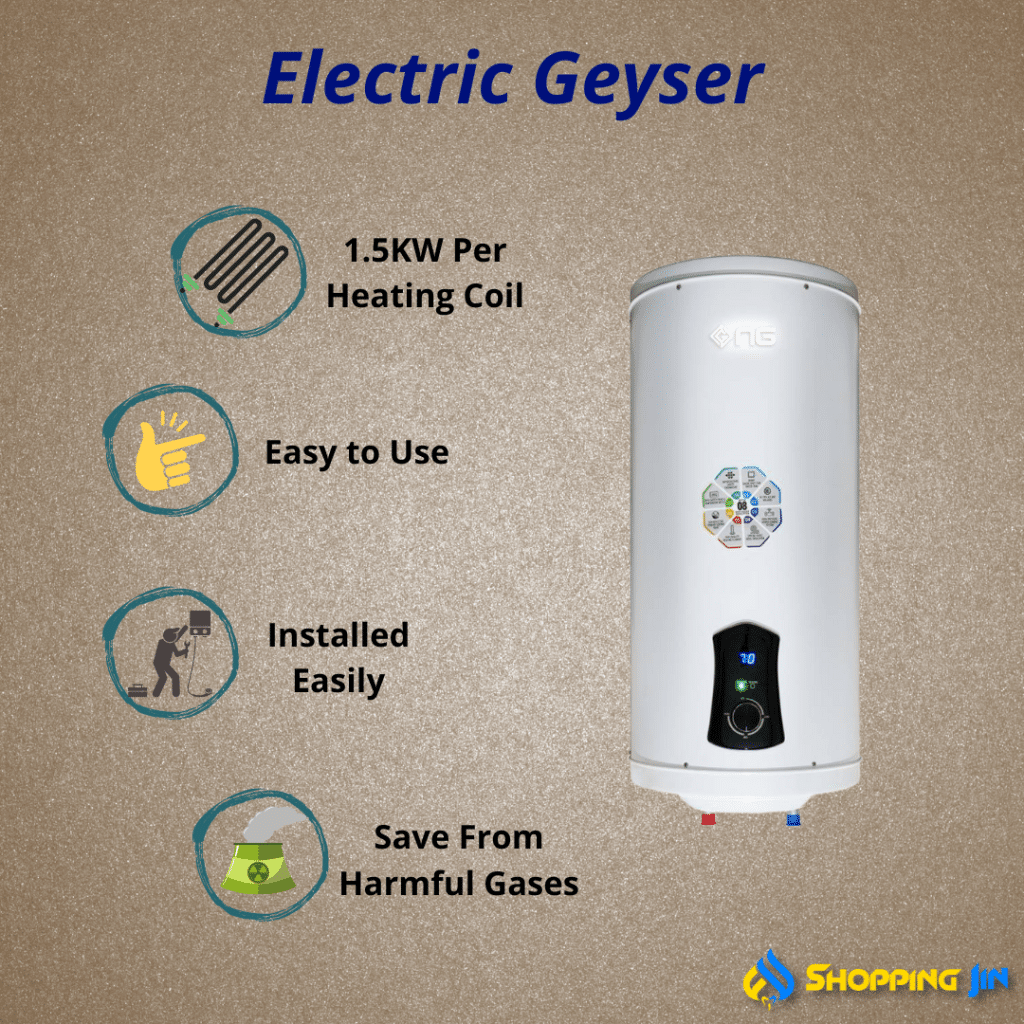 Electric geyser advantages over other geysers
Electric geysers are easy to install and more economical than gas or propane water geysers. An electric hot-water geyser is the most efficient type of home heating system for many reasons.
Due to Pakistan's huge Gas load shedding, our existing water heating system is useless. When these systems are replaced with electricity, we can obtain an uninterrupted water supply for the whole winter.

When you buy an electric water heater, all you need is an electric outlet near where your new tank will be located so it can be plugged in when needed. Say no to the hectic task of starting a traditional Pakistani gas heater.

The best thing about having an electric geyser installed at your house is that no one had to run out in cold weather to start up the old storage tank model again, as they are usually small in size and can be installed on the wall or flat surface, inside your house.

They are eco-friendly as they don't burn oxygen into carbon dioxide.

They can be easily installed.

They are easy to use.

They are safer to use as your water doesn't get contaminated by harmful gases, which results in burning.
Electric Consumption of Electric Geysers
There is a huge misconception about the power consumption of electric geysers in Pakistan, which makes the buyer think that the price he'll pay after buying the heater will be huge as electricity aunt cheaper in Pakistan.
The plain and straightforward answer is that the lion hunts once a day, and the donkey eats grass the whole day. You only need to turn on these geysers when you have a demand. Unlike traditional gas geysers that work the whole day to fulfill their user needs, they heat easily up the water when plugged in.
Like Canon and Nasgas, a branded geyser will cost 1.5KW per heating coil. Turning a geyser on for an hour with just a single eating coil will cost you around 15 rupees.
How to Select a Good Electric Geyser
Obviously, the selection of geysers totally depends on your usage. If you have a large family comprising more than 3 people, an electric geyser with a tank should be your ideal get-to-go choice.
Instant Electric water heaters come in various capacities, including 6 liters, 15 liters & 20 liters. Pick the one satisfying your daily water consumption. We recommend instant geysers to those who only need hot water for showers or any short task.
Price of Electric Geyser in Pakistan
The prime reason for their high price is due to the fact that they were imported initially. But now, local brands are manufacturing it too, and they try to decrease the cost by using substandard material. So do look in detail about the specs of electric geysers when you are purchasing them.
Electric Geyser Price List of 2022
An electric geyser will cost you around 17,000 in Pakistan. Locally manufactured electric water geysers will cost you a minimum of 10,000 and a maximum of 30,000.
Pakistani Brands of Electric Water Geyser
In Pakistan, there is a lot of saturation in the geyser industry due to the local manufacturing of these products. Many famous brands try to make water geysers but lack quality due to insufficient research and mediocre material.
After doing a careful assessment, we listed some well-known famous brands of electric geysers for our audience.
Canon

Nasgas

Boss

Super Asia

Insta gas