Coffee Machine price in Pakistan starts from RS 2,800. Average selling price of coffee machine is RS 25,400. We give lightning fast delivery of coffee machine in all major cities of Pakistan, specially in Lahore, Islamabad, Multan, Faisalabad & Karachi.
Coffee is the second most popular drink all over the world after water. Coffee beans contain many compounds that can have positive effects on health as well as negative ones if consumed excessively or improperly prepared. In Pakistan, a lot of tea lovers shift towards Coffee in winter as it keeps you active and warm.
Making a coffee is not easy as making tea. Much manual effort is put into meshing the coffee machines with water to make a paste, which is time-consuming and includes great effort. The coffee machine is the solution to save you from all of this hassle.
Coffee machines are available in a variety of models with different features. Coffee machines are best for making coffee at home as they can give you a fresh cup of coffee with the right amount of taste every time.
A topical coffee machine that gets imported into Pakistan contains a high-pressure water stream nozzle that passes through the Coffee. A steam nozzle with 15 bar pressure. These machines usually take around 800Watts.
Coffee makers make it easy to prepare delicious hot or cold beverages. Some imported coffee machine helps in extracting flavors from ground-up beans by directly crushing them via a grinder.
Types of Coffee Machines
Coffee makers aren't mostly imported from abroad. Majorly two types of Coffee Maker are available in Pakistan.
Automatic Coffee Makers

Manual Coffee makers
Automatic Coffee Machines
An automatic coffee maker is much better because it can grind the beans and then make the perfect cup for you. At the same time, manual requires great effort on your part, like measuring out ground coffee manually, which can be quite time-consuming at times when all you want to do is enjoy a fresh-tasting cup of java immediately after waking up from sleep.
Auto Coffee Machines come with built-in grinders that help produce coarsely ground espresso within seconds, so there's no need to measure the coffee ground before making Coffee manually.
People in Pakistan mostly prefer automatic coffee machines. Which are further divided into 2 types of machines
Espresso Machines (For offices)

Pod-Based Machines (For home and personal usage)
Espresso Coffee Machine
these machines are used in homes and cafes to make Coffee. In Pakistan, restaurants usually purchase this machine and sell each cup of Coffee at 500/- PKR. Buying it would make it possible for you to have your daily cup of caffeine at home without having to go out every time you have been craving some refreshing drink.
This machine is just not limited to espresso. You can make Tea, Cold Coffee, Hot Choco drinks, mocha & cappuccino. Some imported espresso coffee machines are even capable of grinding coffee beans themselves. So we can enjoy fresh and delicious Coffee at our home.
Pod-Based Coffee Machines
pods are very similar to tea bags used for serving tea. Coffee pods have the coffee beans already grounded, so they are ready to use in machines that need ground Coffee. Coffee is loaded into a capsule or pod, which is then placed into the machine and pressed against its hot surface – resulting in an instant cup of espresso.
Using capsules saves you time when making espressos at home because there is no mess with grinding whole beans yourself every morning (just like there's no cleanup involved after using tea bags). The downside of this convenience? Coffee pod machines can be somewhat expensive due to their small water reservoir capacity and expensive pods. But you can enjoy coffee flavors from some famous brands like Nescafe, Starbuck & Nestle.
These types of machines are mostly recommended for an extreme coffee lover who loves the taste of Coffee by these brands.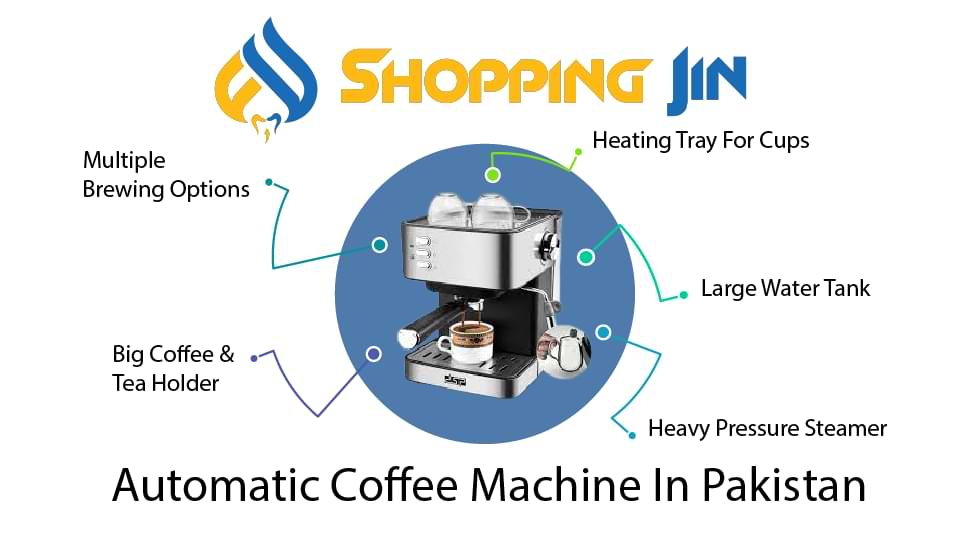 Recommendation
A Manual Coffee maker is much more economical and portable. Still, it requires a lot of effort on your part to create the perfect cup. In contrast, automatic ones make things easier by grinding beans automatically, after which you will get fresh espresso within seconds without any hassle whatsoever.
As far as maintenance goes, coffee makers require occasional cleaning. Auto Coffee Machines are also much better as they have Auto Cleaning. There's no fear of spilling grinds all over as this option cleans the Coffee Maker automatically after each brew. This feature is found only in high-end models. That's why we recommend automatic coffee machines.
If you ask us, Espresso coffee makers would be our winner. They are by far the most demanding product in Pakistan as they come at the most affordable price with great features. Its maintenance and usage price are also reduced as there is no need to buy coffee pods.