Air Cooler price in Pakistan starts from RS 12,400. Average selling price of air cooler is RS 19,200. We give lightning fast delivery of air cooler in all major cities of Pakistan, specially in Lahore, Islamabad, Multan, Faisalabad & Karachi.
When you think of an economical cooling device, an air cooler is often the very first name to pop up in one's mind. It's great because it works quietly with less power than other cooling systems. There are different air coolers like the tower cooler, portable cooler, direct-drive fan system, etc. Each type serves its purpose depending on your need to be met.
Air Coolers can be used for commercial purposes such as in offices to provide a cool breeze indoors during hot summer days. It also provides a comfortable working environment with fresh air, making occupants feel relaxed from extreme heat conditions outdoors. This guide will help you make a better decision when purchasing an air cooler.
How does it work
The air cooler uses evaporative cooling technology to produce cold water vapors from its moistened pads, increasing moisture content in the surrounding atmosphere. In short, we can say that an air cooler is a device that cools down the air's temperature and humidifies it.
Although many different types are available in the market, they all work on the same principle by using electricity. let us have a look at their types
Types of Air Cooler in Pakistan
Air Cooler can be categorized primarily into three types
Lahori (Desi) Cooler
These Coolers are getting obsolete now as they have the hectic task of changing khus each year. They have metallic wings with a metallic body and are powered by a locally manufactured motor. They are pretty affordable and are still in the market.
Room Cooler
These types of air coolers are getting in trend nowadays. They have a plastic body, and their good finishing allows them to be used inside rooms. Hence they are called room coolers.
These coolers replaced the old khus system with a new Honeycomb cooling pad. These cooling pads can last from 5-to 8 years. They consume less water and give more cool air than a Lahori cooler. They are 80% more efficient than standard cooling pads as they don't clog or become saggy.
They have a lot of features like manual or automatic moving flaps and different speed settings. There is a vast variety of room coolers. They also come in tower and window shapes.
Tower Air Coolers
They are slim room coolers. They save a lot of space without compromising the capacity of the water tank. They have every feature of a standard room air cooler.
Window Air Cooler
They are made to replace traditional Lahori coolers installed in windows. They are cubical. The air intake part is usually placed out of the room via the window to take fresh air and deliver it into the room.
Mini/ Portable Air Cooler
It is a DC Air Cooler with two fans, one at the front and one at the bottom. It has a water-soak filter that soaks up the water, and air passes through these wet filters. It is operated by an almost 12 volts DC power supply and has additional features like ambient lighting. You have the option of adjustable speed.
Compared to other coolers, they operate at quite low speed and require chilled water in the tank as the filters are simply water absorbers.
Latest Features of Air Cooler
A Lot of development is going on in the air cooler industry. Below are a few of the latest innovative features that make your air cooler work better.
Solar Working
Few coolers come with a pre-installed solar kit. They are mainly designed for the outdoors. Where they are placed under the sun and would consume solar energy instead of electric energy. Click Here to get Solar Air Cooler.
Icebox Compartment
Many air coolers have started to include an icebox with the cooler. These iceboxes may or may not come with reusable sealed ice bricks. You can also put regular ice cubes in the icebox container, usually located at the top.
Remote Control
Few latest models of air coolers come with a remote control option. You can easily control their speed with an IR remote controller.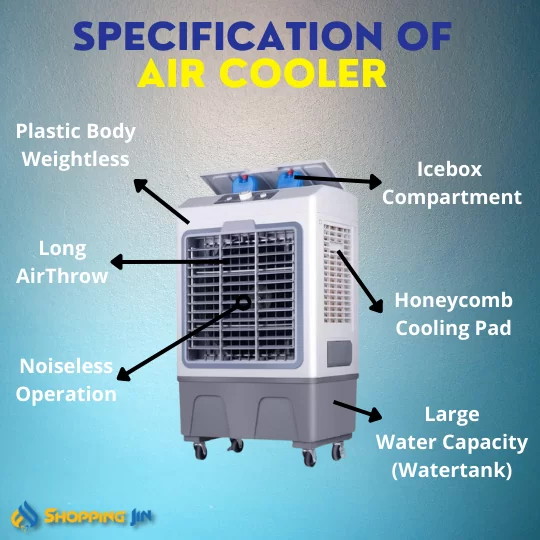 Famous Brands
In Pakistan, a lot of local companies are manufacturing room air coolers. Each one is famous for its unique features. A few of them are listed below.
Boss
Royal
GFC
Nasgas
Pak Fan
Inspire
Super Asia
All the companies have their prices. In Pakistan, Boss, GFC, Royal, and Super Asia usually have the lowest price with the best quality.
Sizes Measures of Air Cooler
Air cooler size is usually measured in two ways
Tank size capacity
Air throw capacity
Tank capacity usually tells about the capacity of a water tank. The usual capacities of air coolers are as under
50 liters
30 liters
20 liters
Measuring air cooler with tank size is an immature approach to measuring air-cooler size.
Air throw capacity (CFM): The best measure is the air throw capacity. It is measured in CFM (Cubic Feet per Minute), defined as the cubic feet of air supplied in a minute by a machine.
Without going into complexity, pick the one that fits the needs of your room. To calculate the air required for cooling your room, you can calculate by cubic feet of your room and divide it by two.
CFM of airflow = (Room size in square foot * ceiling height) / 2
Things to Consider While Buying Air Cooler for Indoor
Air cooler is available in different sizes and specifications according to the number of people it can accommodate. Larger air coolers are more efficient as they have a larger area for cooling, depending on their dimensions, body material, water tank capacity, etc. Here are some considerations you need to consider while buying an Air Cooler.
Sufficiently large Size:
Smaller air coolers work efficiently but are only suitable for small rooms with fewer people. So pick an air cooler with respect to the size of your room. We have already explained the formula to calculate the CFM of the air cooler above.
Noiseless
Air cooler propellers make a lot of noise which is often disturbing. Fan propelling fins are made up of metal or hard plastic. For gaining maximum speed, they are made in aerodynamic shape. The larger the fan, the quieter it will be. The material also affects the noise. Metal fins are more noiseless than plastic ones.
Inverter
DC inverter technology has also consumed air conditioners. A lot of houses are moving towards a complete solar setup. Inverter air coolers are also capable of being run on a solar setup.
Large Water Tank
Air Coolers with larger water tanks ensure you don't have to refill them often, but Air coolers with small tanks need refilling more frequently, which disturbs your sleep at night and increases the running cost over time.
Air Throw Distance
The air throw of the cooler is another feature that most users seek. Buy the one which has a higher speed with maximum air throw. It isn't usually mentioned on the box. So pick the one whose fan blades have a high angle. Higher the angle, the longer the range of cool air.
Air Cooler Maintenance
Air Cooler requires proper maintenance for better performance. You should clean its water tank and wash the pads after a while to avoid bacterial growth or germs, which can be a health hazard.
If you have toddlers at home, checking the Air cooler's components for water leakage is crucial. Otherwise, they might fall sick as the water in the container usually contains bacteria.