Deep Freezer price in Pakistan starts from RS 42,400. Average selling price of deep freezer is RS 60,000. We give lightning fast delivery of deep freezer in all major cities of Pakistan, specially in Lahore, Islamabad, Multan, Faisalabad & Karachi.
Deep freezers are an essential appliance for anyone looking to store large amounts of frozen products. They allow you to buy your groceries in bulk, saving money and reducing waste from spoilage caused by overbuying perishable goods such as meat. 
Freezers can be filled with fresh vegetables when prices are low or when there is Qurabni at home but still enjoyed during peak growing seasons without worrying about wasting any excess product due to spoilage. 
Deep Freezer is most commonly used for short-term storage of perishable items like ice cream, meats, frozen vegetables, etc. A deep freezer can maintain a low temperature inside it without a power supply for a long time (100 hours).
Considering load shedding conditions in Pakistan, You can store food supplies in the Deep Freezer for months together. And forget about them as they will maintain their cooling even if there is load shedding for about three days(72 hours).
Deep Freezer Types
There are two main categories of Deep freezers:
Chest Freezer

Upright Freezer
Each type has its unique advantages for buyers. The model that best suits your needs will depend on how much space is available in your home and what kind of storage capacity you require.
Chest Freezer
The most common type is the standard deep Freezer – also known as a "chest" style Deep freezer. It comes in 2 types.
The single-door chest freezer

The double-door chest freezer
A double-door chest freezer usually has one side acting as a fridge and one side acting as a freezer. Some commercial freezers have 2-doors specifically for the Freezer. They are pretty big, and the hinges of a single freezer can't handle such a large door.
Upright Freezers
Upright Deep is a vertical Freezer. This appliance would be found in kitchens mostly. They typically cost more but provide better access to food than their chest counterparts. These Deep freezers usually have racks inside that pull out (like drawers) for easy accessibility.
Recommendation
Due to their vertical design, upright Deep Freezer models can offer up to twice as much storage as a Chest Deep Freezer. However, they cost significantly more money. They utilize less floor space than a chest freezer. If price isn't an issue for you, we recommend purchasing an upright deep freezer as it provides better value for money overall.
Size of Deep Freezer
The Deep Freezer you choose should always depend on how much space is available in your home as well as the storage capacity you require. Deep freezers can vary from small units capable of storing a few frozen pizzas (150 Liters) to large models with capacities to store a couple of sheep (up to 22 cubic – almost 600 liters) and even more. So, the price of a deep freezer depends on its size. A few of the standard sizes of the deep Freezer are as follows.
Eight cu ft.

Ten cu ft.

12 cu ft.

16 cu ft.

18 cu ft.

22 cu ft.
The latest feature of deep freezers
Deep freezers have evolved a lot in the last few years. Deep freezers are not just for keeping food fresh for a short time. They also come with many features and benefits to make your life easier while storing or using them.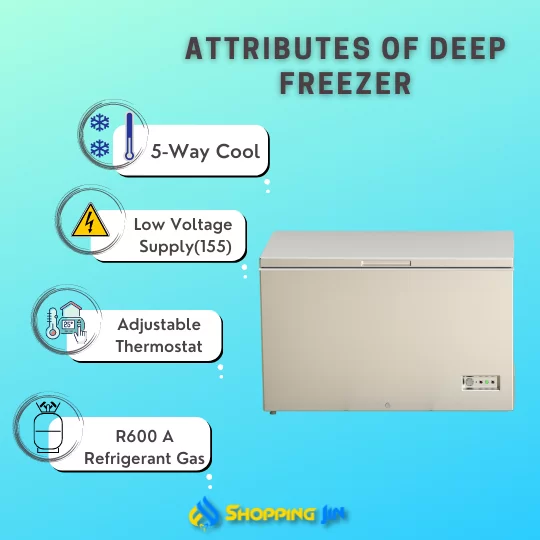 Dc Inverter Freezer
Freezers with these types of features operate at relatively low voltages. They usually operate at 1.4 amperes on complete cool and consume around 235 watts. The main thing for their energy efficiency is the particular r600 gas. 
Full dc inverter inverters can be operated directly on solar or ups as they consume a tiny amount of power. Some companies claim their Freezer take as low as 60 watts when they are thoroughly cooled, and the door of freezers remains shut for an extensive period.
Note: Concerning inverter technology, the price of inverter freezers is more than the price of regular freezers.
5-way cool 
The latest Freezer includes a 5-way cooling feature. 4 walls + floor cooling. This feature allows chilling the content from every side equally.
LVS
Deep freezers are now coming with low voltage start technology that eliminates using a stabilizer. A standard deep freezer will start at around 155 volts. A few companies in Pakistan also claim that their Freezer can handle a voltage range from 105 -to 260 volts. so people can freely run them on ups or solar system
Adjustable Thermostat
A deep freezer with an adjustable thermostat allows the user to change the Freezer's temperature according to the need. There is usually a small knob at the bottom of the Freezer. Turning it from max to min will change the compressor speed.
Turbo or Super Cool
The latest freezers come with a cool turbo button that allows the Freezer to cool quickly. Otherwise, it usually takes around 1-2 hours to become correctly functional, but this feature allows the Freezer to cool under 30 mins.
Attributes of a Good Freezer
A good freezer can freeze anything up to – 25 degrees Celsius. It comes with locks on each door to restrict access to the Freezer. It is good to have an inverter freezer that operates on low voltage.
Warranty of Deep Freezer
The deep Freezer comes with a standard warranty like a refrigerator. Most companies provide a 3 years compressor warranty and 1 year parts warranty.
Few companies in Pakistan (like PEL and Dawlance) have extended this warranty to a 12 years compressor, 10 years rust-proof body, and 1 year parts warranty.
Based on the warranty, deciding on a good deep freezer would be an amateur approach, and in our experience, a standard compressor can last around 25 years, and its body doesn't rust even after 20 years.
Price of Deep Freezer in Pakistan
In Pakistan, Deep Freezer prices reach their height when the Eid ul Azha arrives as everyone wants to store their Qurbani meet for the longest. We recommend you to buy Deep Freezer in the fourth quarter of the year.
Ideally, the smallest deep Freezer should cost you around 30,000/- PKR, and an inverter Freezer would cost you around 37,000/- PKR. below is our complete price list of deep freezers
Price list of Freezer 2022
Deep Freezer Brands
Deep freezers are one of the most used equipment in every household. Deep freezers come with different features. Many local manufacturers are making deep Freezer due to their diverse demand in Pakistan as it's a Muslim state, and many of us need to preserve Eid Qurbani meet for the whole year. few of the well-known companies in Pakistan are
Waves

PEL

Dawlance

Haier

Changhong
Power Consumption of Deep Freezer
Deep freezers use more power than regular fridges if they are continuously opening. It is because of their heavy compressor and large fan motor. Deep freezers also have an interior light for viewing the contents at night or during a blackout, which consumes energy. 
Deep freezer energy consumption is measured as watt-hours (Wh). Usually, the smallest Freezer consumes around 2.2A of current and about 600 watts of electricity. Depending on the size, freezers will consume more energy.
Where to buy affordable deep freezers
People usually purchase products online or offline, depending upon their location. There are several websites where users find information about what type of product suits them according to their needs. Still, shopping jin is the only trustable online shopping website that provides a deep freezer at the lowest possible price in Pakistan.