Minimum price of inverter ac in Pakistan is RS 76,900. Prices of our import quality inverter ac are unbetable. Have a look below at our catalog.
Inverter air conditioners are a smart choice for most economical people. They are very energy efficient and save a lot of electricity, saving tons of money in the longer run. Here, we will talk about inverter ACs in general, the benefits of inverters, and how inverter air conditioners work. We will also give tips for using DC inverter AC for maximum efficiency and savings.
Basic Idea of Inverter Technology
Inverters are electronic devices that convert direct current(DC) to alternating current(AC). The compressor is driven by a DC inverter kit in an inverter air conditioner. Thus, energy consumed by inverting the power from DC to AC can be saved, reducing electricity consumption.
How DC inverter AC saves electricity
The main difference with inverters is an automatic relaxed setting to maintain the temperature. This means it will constantly change its output based on room temperature. The higher the ambient temperature, the more cooling is required and thus greater airflow volume. This change in output is done by lowering the compressor's speed, which is done by lowering the Amperes supplied to the compressor.
Simply put, it starts reducing its power consumption when rooms start cooling. At the same time, a traditional type of ac has a constant relaxed setting. It wastes lots of energy as continuous cool air is generated. It creates an extra chilly environment in the Room. You could set them on auto, which trips the AC when the Room is all cool. But this is still an inefficient approach.
Why Buy DC Inverter (Inverter AC vs. Traditionally AC)
Inverter ACs are the latest trend in cooling technology. Compared to traditional air conditioners. Below are its advantages over traditional (non-inverter) AC
Inverter ac provides you with both hot air in winter and cold air in summer, while traditional ac only provides cool air.
Inverter AC uses a compressor that lowers its working(consumes less electricity) and thoroughly cools the Room. This allows you to run an ac on solar or UPS too. On the other hand, traditional ac needs total watts for its work.
Inverter AC also reduces the noise level of inverter ac as it does not run continuously at full speed like other types of ac
Inverter ACs have a longer life than conventional ACs. Since the compressor runs at full potential only when the room temperature is low enough, it doesn't overwork and wears out quickly.
Electricity Comparison
A traditional AC of 1 ton DC inverter needs 6-7 Amp of current, meaning 1800 Watt of electricity. A DC inverter AC will need the same at the start, but as soon as the rooms get cooled, it starts lowering the current consumption from 7 to 4 & after a while, from 4 to 3. Some companies claim that inverter AC operates at 2.2 Amp of current means at 500 Watts. But those readings are measured in ideal conditions.
These conditions force us to think that an inverter AC runs on UPS or Solar?
The simple answer is yes. The DC inverter AC is well suited for UPS and Pure-Sine-Wave UPS operations. Solar UPSs or Hybrid Solar Inverters almost always produce pure sine wave output. If you want to operate your AC on a UPS or Inverter, connect it to a UPS with a power capacity of at least 50%. Most UPS comes with the power of 1000 watts.
Types of Inverter AC
Inverter ACs have an inverter kit that ensures energy saving by fine-tuning compressor speed, self-diagnosis, and protection modes. This kit is the heart of Inverter AC and can power one or multiple parts of ac. Based on the function of the kit, we can classify Dc inverter AC into the below types.
Single DC Compressor Inverter AC
The DC Compressor Inverter Air Conditioner is one of the most popular inverter ac in Pakistan, consisting of just one DC component: the compressor. The remaining components are all non-dc.
Although it is the cheapest inverter ac in Pakistan, its energy efficiency may not be as good as a 3DC or complete dc inverter air conditioner. In Pakistan, DC Compressor Inverters can save up to 30-40% on your power bill.
3DC Rated Inverter AC
3DC Rated Inverter Air Conditioners are a great value alternative. The 3DC Rated Inverter AC includes three key elements: Compressor, Outdoor Motor, and Indoor Motor. 3DC-rated inverters can save you up to 60% on your power bills.
5DC Rated or Full Inverter AC
The best inverter ac in Pakistan is the 5D DC Inverter Air Conditioner, which includes five components: a compressor, an outdoor motor, an electronic expansion valve, an indoor vane motor, and an indoor motor. This helps air conditioners operate more efficiently while also extending their life span. It can save up to 75% of electricity.
Types of Inverter Compressor
In an inverter air conditioner, two types of inverter compressors are used.
Single-phase inverter
A Single-phase inverter uses an inverter air conditioner. It is less expensive than a three-phase inverter but has a low cooling capacity. Three-phase inverters are more high-quality compared to single-phase inverters.
Three-phase Inverter
Three-phase inverters have two-speed options (low & high). High speed consumes more power, but it provides better cooling, whereas Low speed provides the best electricity-saving, but cooling is not so good. So, If you select a massive area for Air Conditioning, you should go with 3 phase inverters. Otherwise, 1 phase inverters will be enough for your room size.
Floor Standing DC Inverter AC
Floor-standing air conditioners are typically advised or installed in larger spaces when traditional wall mount split air conditioners would not function or cannot be put in. In addition to residential use, floor-standing inverter ac is also quite popular in business corporations. Standing air conditioners are used in Pakistani wedding halls and business buildings since they are easier to install than other air conditioning systems. Furthermore, the price of 2 tons or 4 tons standing ac in Pakistan is one of the key reasons a potential buyer carefully considers purchasing 2 tons or 4 tons standing ac for household or business usage rather than a split ac.
Brands of Inverter AC in Pakistan
Inverter air conditioners are readily available in the Pakistani wholesale market. Many local famous brands offer Inverter ACs at cheap rates compared to imported DC inverter AC. Here's a list of some famous inverter AC manufacturers
The companies mentioned above provide Inverter (DC) split ac for residential and commercial use. The installation cost is high, but overall running costs are meager due to the energy-saving features of these types of systems.
Price of Dc inverter AC in Pakistan
Inverter air conditioner price starts from 65,000/-. A standard price of 1-ton inverter ac is around 70,000/-. If you want to buy wifi enabled inverter ac, you can add around 3,000/- to its original price. There is approximately a gap of 15,000 when shifting from a 1-ton air conditioner to a 1.5-ton inverter air conditioner.
Essential Feature of DC Inverter
Dc inverters are equipped with tons of features. A few of them are as follows.
Inverters having LCD panels to display room temperature/time
Sleep and start timers with fixed durations (switch off after x hours while sleeping at night, e.g., 12 am – 6:30 am).
Wireless remotes control functions from distances away.
Auto restarting features enable inverter AC to resume operation when the power supply resumes after a brief outage.
Clean Feature for self-cleaning of the AC.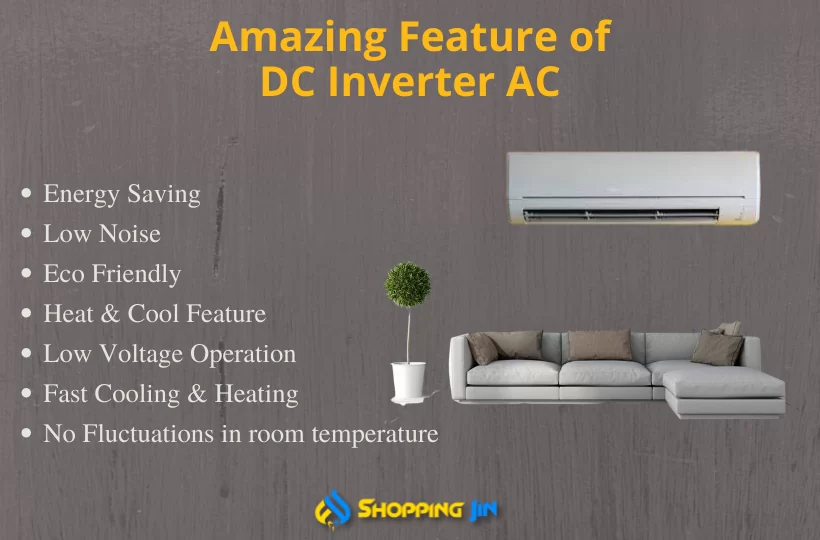 Inverter Air Conditioner Prices of 2022
Inverter Air conditioner is a bit more expensive than a standard air conditioner, but this upfront cost is compensated by saving electric bills. You can also save your money by shifting from Gree to other brands like Pel, orient, Dawlance, or Changhong Ruba. Buying from a trust store like us can save you tons of cash as we offer Dc inverter ac at the absolute lowest price in Pakistan.
Limitations/Disadvantages of Inverter AC
One major disadvantage of inverter technology is that it cannot be used in place of split ACs or window-type units because inverters do not dehumidify them, unlike traditional types, which have both functions combined.
You have to pay higher upfront charges during the purchase. Consider it as an investment for saving electricity bills.
Inverter kits can burn if there is a rapid fluctuation of electricity. Being the heart, it is the quietest item (it will cost you around 15,000 PKR).
Tip for Buying Inverter AC
Buy copper wires AC that quickly become cold, and inverter compressors use that energy from this cold copper wire. (although every DC inverter AC comes with copper wire nowadays, double-checking will never hurt)
Select 3DC or Full DC Inverter as it saves more energy
Buy AC in the winter season as the prices get low and installation price is cheap.
Buy AC which has a turbofan speed option and multiple fan speed options.
How to use Inverter AC Efficiently
Room Temperature Sensor: By default, Inverter AC has a room temperature sensor to determine what level of power output is required to keep the Room comfortable by adjusting the cooling power automatically according to ambient conditions.
Additionally, you can also put on timers with fixed durations instead of switching off completely when not needed, e.g., while sleeping at night, etc. This ensures minimal wastage of electricity and saves money spent on bills.
Two Fan Speeds: Second most crucial Feature after the "Auto" mode setting in inverters is two fan speeds. One is for standard cooling, and the other is for turbofan speed. Running AC at average speed will again put less load on the compressor after a while.
Closed Room: the heart of the Inverter AC is the closed Room. There shouldn't be air leakage in your Room. The door shouldn't be frequently opened and closing. Else you won't be able to take full advantage of the AC.
Frequently Asked Questions
Where to install an AC?
The placement of air conditioning units should never be opposite the door. It should be installed 5 feet above the ground. The Outdoors should be at least 6 feet above the indoors.
Does the Inverter AC need a stabilizer?
You might not need a stabilizer for inverter AC as it can adjust for voltage range 160-240V. However, your inverter AC kit is at risk of fusing due to fluctuation. So stabilizer could prove to be a lifesaver in that condition.
What is the ideal model for running inverter ac?
The experts of Air Conditioners advise that you only use the air conditioner dry mode for 1-2 hours at a time. While the "Dry Mode" does an excellent job of lowering airborne moisture, keep in mind that it should only be utilized to maintain a humidity level acceptable for human comfort.
Conclusion
Inverter ACs are more expensive than regular types, but their energy-saving feature makes them cost-effective, too; inverters can be used to cool entire homes or just specific rooms depending on the size of the house and budget. We hope this guide is helpful. We, at shopping jin, only register the original Air Conditioner and DC inverter AC.