Dawlance 9188 WB GD H-Zone Refrigerator Intro:
Product specifications of Dawlance 9188 WB 15 Cu ft – H-Zone Glass Door Refrigerator. It has been started on low voltage (LVS) which is 135V.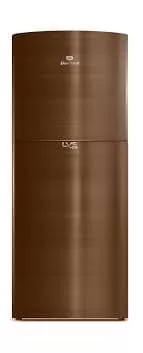 Dawlance H-Zone Plus series prevents food from bacterial growth and stops the deterioration process, keeping it fresher for double the duration in comparison to other regular refrigerators. So H-Zone Plus helps you put a stop to food decay and increases the life of your food at low voltage. Dawlance 9188 WB GD H-Zone price in Pakistan is affordable for the customers.
Health Light:
Dawlance H-Zone series uses health light which doubles duration of food preservation as compare to standard refrigerators. That's why it is the Dawlance best refrigerator in Pakistan. Its preserve food from different types of bacteria and fungi.
Longest Warranty:
Like all other Dawlance H-Zone refrigerators, Dawlance 9188 WB LVS refrigerator has long 12 Year Compressor Warranty and 1 year Parts Warranty.
Antifungal gasket:
Like all other Dawlance refrigerators, Dawlance 9188 WB GD H-Zone has anti-fungal removable gasket prevents the entry and build-up of fungi and bacteria inside the refrigerator any maintain hygienic conditions to preserve food.
Tempered glass shelves:
Dawlance H-Zone series uses unbreakable tempered glass shelves can hold weight up to 100 kgs. This gives strong and clear look of the shelves.
Wider body design:
Dawlance 9188 WB GD H-Zone  has a wider body with more depth for bigger pots and utensils and gives best utilization of your space. It gives us the space for food round about the 6 members of the family.
Energy Saving:
Dawlance 9188 WB GD H-Zone provides up to 35% energy savings due to refrigerant R600A which is ozone friendly as well.
Spill Proof Shelf:
Dawlance H-Zone uses spill proof glass shelves to prevent split liquids form contaminating other food.
What's in the box if you buy from Shopping Jin?
1 x Warranty Card.
1 x User Manual.
1 x Refrigerator.
Get more information, visit details.
Dawlance LVS Refrigerator tried to make you more comfortable and tension free from the preservation of food by this product.
Dawlance 9188 NS inverter refrigerator specification:
There is some specification of Dawlance 9188 NS inverter refrigerator lowest price.
It provides us 12 years compressor & 1 year parts warranty.
Dawlance 15 Cu Ft refrigerator.
Metallic Look.
It has wider and depth body design which gives us more storage to store food as compared to others.
It runs on low voltage (LVS) at 135V that's reduces electricity bills.
35% energy saved with this product (Consumes less energy than 2 energy savers).
Fastest cooling effect.
There is no need for stabilizers.
It has R600A gas.
It provides us Anti Fungal gasket which preserves the food from fungus and bacteria.
It is the genuine product of the dawlance.
Shopping Jin is offering you a wide range of Dawlance 9188 WB H-Zone (LVS) Refrigerator at the best price in Pakistan.