Hisense 50 Inch ANDROID LED TV UHD 4K – 50N3010
Hisense 50N3010
50 inch
4K UHD
Android
1-year official warranty
Product Summary 
Hisense 50N3010
50 inch
4K UHD
Android
1-year official warranty
Condition: Brand New
Delivery: 1-2 Working Days
Warranty: Original Brand Warranty
100% Genuine Product
1 Week Full Refund Policy
Cash on Delivery all Over Pakistan
Description
A top value TV that doesn't compromise on picture or features – the Hisense 50N3010 is a UHD 4K Android LED TV, a classic all-rounder.
Key Features
Below are a few of the critical features of Hisense LED TV
Local Dimming for Superb Contrast
Using E-LED (Edge backlighting) gives this Hisense 50 inch 50N3010 LED the edge over its rivals. It makes the LED slimmer and works with Local Dimming for a superior picture. By splitting the picture into 16 Local Dimming zones, the contrast between light and dark images on the screen is more clearly defined, giving a superbly life-like picture.
HDR Plus with HDR10 and HLG
The Hisense 50N3010 is compatible with the next-generation HDR Plus. HDR extends the range of colors for enhanced realism. It also delivers brighter whites and darker blacks, helping to give this TV stunning levels of contrast. HDR10 and HLG formats are both covered. HLG (Hybrid Log-Gamma HDR) is a broadcast and user generated standard format set to become the standard for transmitting 4K signals.
Powerfully Smart
It has a Quad-Core processor; this Hisense 50″ 50N3010 LED is a powerful performer with Smart content, too. Connect up to your home network by Ethernet or Wi-Fi and enjoy access to a wide range of apps, including favorites such as Netflix, Amazon, YouTube, and the BBC iPlayer. A built-in web browser lets you browse and stream to your heart's content. these All things collectively make Hisense Best Led in Pakistan
Any view Cast and Stream let you effortlessly share content
For seamless integration with your other devices, Hisense 50N3010 gives you Any view Cast and Any view Stream, which let you share content from your smartphone, tablet, or computer and show it on the big screen. Sharing photos and videos stored on your phone has never been more accessible.
Total connectivity
These are fitted with four HDMI sockets; the 50U7A has all you need to connect sources. These sockets are the latest HDMI 2.0 version with HDCP 2.2, making this TV compatible with UHD Blu-ray players and 4K HDR streaming services. Other connections include twin USB sockets, the latest USB 3.0 version for a high-speed link. Throw in an optical connection for a soundbar/base, and you've everything you need in an HDR TV. and this makes sense best led in Pakistan.
Freeview HD
It might be some way behind 4K, but Freeview HD is still a huge step-up on regular Freeview LED. If you're not using Sky, Virgin, BT, or another digital TV provider, Freeview HD is the way to go for free-to-access digital TV through your existing aerial. Compared to standard Freeview, images are far more detailed, with rich color and enhanced realism.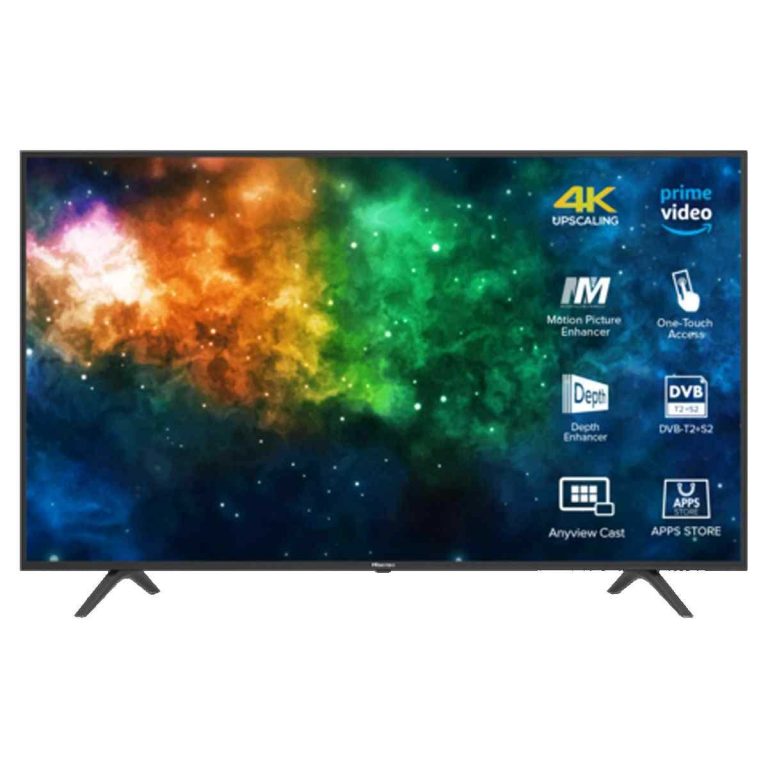 PVR USB for Recording Your Favorite Shows
One USB socket lets you connect up a USB memory stick as a PVR. PVR stands for Personal Video Recorder and lets you record TV programs via the set's Electronic Program Guide. It can also pause live TV – just like a subscription-based set-top box.
Upgrade to the latest TV spec and enjoy the savings with the Hisense smart led 50U7A.
Detailed Specifications
3D TV No
Analogue Tuner Yes
ARC – Audio Return Channel Yes
BBC iPlayer Yes
Brightness 400
Camera No
Contrast Ratio 4000:1
Digital Audio Output Yes – Optical
Dimensions excluding stand WxHxD (mm) 1116 x 655 x 52 mm
Dimensions including stand WxHxD (mm) 1116 x 723 x 262 mm
DLNA Compliant Yes
DVI No
Energy Efficiency Rating A
Full Web Browser Yes
Gesture Control No
HDMI 4_HDCP2_2_2
HDMI 2.0 Yes (x2)
HDR Yes
HDR Format HDR10, HLG
Headphone Socket No
Integrated DVD Player No
LED Backlight Edge LED
Local Dimming Yes – Edge
Maximum Stand Width (mm) 881
Motion Processing PCI 2300
Netflix 4K Streaming Yes
Packaging Dimensions WxHxD 1398 x 77 x 162 mm
Panel Bit Depth 10 bit (8 + 2 FRC)
Panel Frequency (Hz) 50Hz
Pixel Resolution 3840 x 2160
Power Consumption – Annual 135
Power Consumption- Normal Use 92
Power Consumption – Standby 0.5
Quad-Core Processor Yes
Remote Control yes
Scart Sockets No
Screen Resolution 4k_ultra_hd
Screen Size 50
Speakers